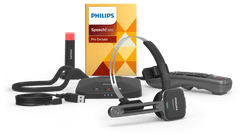 The Philips SpeechOne headset is a state-of-the-art device that has revolutionized speech recognition technology. It is designed to provide professionals with an easy and convenient way to dictate and transcribe documents with exceptional accuracy.
The headset is lightweight, comfortable and durable, making it perfect for long hours of use. It features a noise-cancelling microphone that effectively filters out background noise, ensuring crystal-clear voice recognition. With its wireless design, the SpeechOne headset allows for greater mobility and freedom of movement, making it ideal for busy professionals who are always on the go.
One of the key features of the SpeechOne headset is its integration with Philips' SpeechExec software. The software provides advanced tools for dictation, transcription, and speech recognition, which can significantly boost productivity and efficiency. The SpeechExec software can be easily customized to suit individual preferences and workstyles, making it an ideal tool for professionals from various industries.
The SpeechOne headset also boasts a long-lasting battery life of up to 12 hours, and it can be easily charged through its compact docking station. The docking station also serves as a convenient storage solution for the headset, keeping it safe and secure when not in use.
Overall, the Philips SpeechOne headset is an excellent investment for professionals who require a reliable and efficient solution for dictation and transcription. Its advanced features, combined with its comfort, durability, and ease of use, make it one of the best speech recognition headsets available in the market today.